More than influencer marketing software
More than influencer marketing software The #1 Creator Management Platform for
The all-in-one influencer marketing platform – connecting your brand to the right influencer with the right audience for maximum ROI.
Make the most of every pic and post. Hook Video helps you locate, track, and repurpose every bit of love your brand ambassadors and content creators are spreading across social.
From fielding applicants to communicating with your influencers, Hook video provides all the tools you need to nurture authentic brand relationships at every stage of your influencer marketing campaign.
Find the influencers who see your brand as more than a paycheck. Hook Video gives you multiple ways to identify and invite only the perfect ambassadors for your brand.
Remove "accountant" from your job description. GRIN can send payments to content creators, track payment history, analyze your ROI per individual, and much more. Simplify your influencer marketing campaign by the number.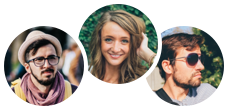 4.6 out of 5 stars from 8.6k reviews

We're making learning as simple as can be